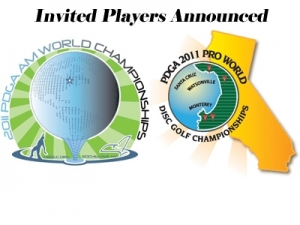 The official invites to both the Am and Pro Worlds have been posted. Did you make the cut? I did!
>
Invites and more info
Don't worry if you didn't get your invitation because after May 16, any PDGA member can register.
If you haven't been to a huge weeklong event, you should really try to get to Rochester, NY (AM) or Santa Cruz, CA (Pro) this year.
I played in the KC AM Worlds in 2009 and the Ohio AM Worlds last year. KC was by far my favorite so far. It was just so much fun playing everyday and being totally engulfed in disc golf.
To get a feel of what goes on, check out my blogs from 2009 and 2010 on the Devens Disc Golf website.